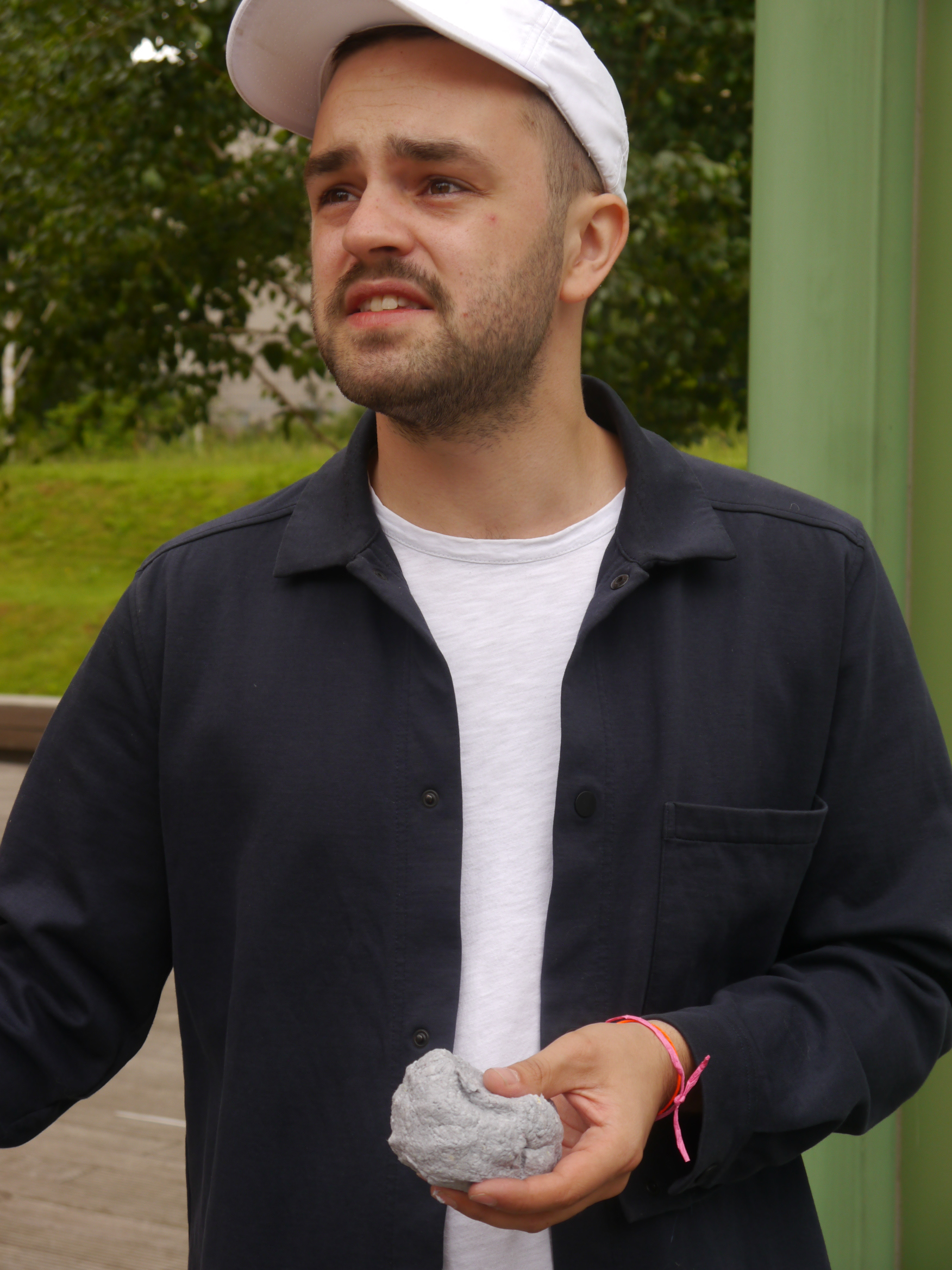 (Post consumer) Material - Product designer
Tim van der Loo is a material and product designer – based in Berlin, born in the Netherlands – using post consumer resources to develop new surfaces and structures. Even though his main concern is sustainability, he cares about bringing a contemporary aesthetic to recycled materials. His works are reflections of a playful approach to the function and matter of objects for everyday use. The methodology used in his practice is to work with waste as a resource. 
Tim van der Loo takes two perspectives; working with craft, enabling independency with DIY tools, machines and techniques and working with the industry, meaning to collaborate, translate and to develop user items for bigger scale. Working within industry is set out not to design something new but to redesign the material that was wasted before and keep it out of being wasted.
Hands.on.matter unfolds the potentials of novel as well as traditional materials and production techniques as an outset for questioning resource use, consumption, sustainability and material culture of our current time. Through material workshops, talks and collaborative projects hands.on.matter seeks to push forward sustainable practices in the field of art and design 
Workshop manager/designer Textilhafen (Komm und Sieh gGmbh) - 2019 – 2020
The local system of donated second-hand clothing is put under a loop at Textilhafen. With its transparent sorting system, the employees are searching for suitable clothing to donate to the homeless of Berlin. Big amounts of clothing are leftover because they no not fit the requirements. Textilhafen is organising events, talks and workshops to create new visions and use the leftover second-hand clothing by giving it new value with reusing, upcycling and recycling. 
M.A. - kunsthochschule berlin weißensee, DE | Textile and Surface design - 2017 – 2019
B.A. - Design Academy Eindhoven, NL |  Man and Living - 2012 – 2016
Exhibitions and workshops:
2019/Nov. | 
Exhibition - New Blue - MEK (Museum für Europaïscher Kulturen)  Fast Fashion: Die Schattenseiten der Mode | kunsthochschule berlin weißensee - Berlin, Germany
2019/Nov. | 
Workshop - The Paper Waste Workshop - HFBK (Hochschule für bildende Künste Hamburg) Hamburg, Germany
2019/Feb. | 
Exhibition - New Blue - hands.on.matter - Re/Upcycling Textile - Berlin, Germany
2018/Nov. | 
Workshop - The Paper Waste Workshop - Palast der Projekte/Lars Zimmermann, Fichtelgebirge grundschule, Berlin, Germany
2018/Jun. | 
Workshop/Exhibition - The Paper Waste Workshop - Open Source days Euref Campus, Berlin, Germany
2018/May | 
Exhibition - The Paper Waste Workshop - l'Atelier, Berlin, Germany
2016/Oct. | 
Exhibition - Fragmented Luster - Dutch Design Week - Graduation Show Design Academy Eindhoven, Eindhoven, The Netherlands
2020 | 30.05.20 Tagesspiegel (newspaper) -
Nie wieder Kleidung wegwerfen: Tim van der Loo macht aus alten Jeans neue - 
Project: Article in the newspaper, interview about the project New Blue
2020 | 01.04.20 Forscher Magazine/Bundesministerium für Bildung und Forschung - Bioplastik selber machen in Forscher Magazine #1 2020 - Project: Educational article with instructions making DIY bioplastic.
2019 | h
an
ds.on.matter - Notes from a series of material workshops - Project: Process and visuals of the project New Blue
2016 | Graduation catalogue - In need of… , Design Academy Eindhoven - Project: Project description about graduation project Fragmented Luster
2020 DesignFarmBerlin scholarship 
2019 DAAD Abschluss Förderung